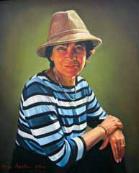 Born in Israel, Nira Spitz has been
drawing and painting whatever
inspires her, whether still life,
landscapes or people, since she was a
She received her formal education in art at Queens College and at the
Art Student's League, in New York, under the direction of respected
instructors and artists such as Frank Mason, Julian Edwin Levi, Michael
Pellettieri, Marshall Glasier, David A. Leffel, Lee Smith,Thomas Fogarty
Jr., Ron Scherr, George Passantino andTerence Coyle.
She also studied at Escuela Artes Plásticas Cristóbal Rojas in Caracas,
and Escola de Artes Visuais do Parque Lage in Rio de Janeiro, as well
as the Hong Kong Arts Centre. Nira has exhibited extensively in South
While living in London, Nira received instruction from Clarence
Crawford, considered by a leading art journal as "the greatest known
living British artist in the esteemed category of 'master painters' ". At
the same time, Nira attended London's Institute at Hampstead Garden
Suburb where she enhanced her portrait skills at the live model classes.
Having traveled widely, Nira has gained an intimate knowledge of local
cultures and colors which have influenced and enhanced her art. Lately,
Nira has returned to her roots, depicting Israel's special landscapes,
Jerusalem's uniqueness and Jewish portraiture.
Her previous solo exhibition, "Footprints in the Stone" at the Jerusalem
Theatre in 2009, consisted of 24 works, reflecting modern everyday
life in Israel's timeless capital city. Nira featured in an artists' exhibition
called "An Israeli Summer" at Bet Gabriel this July.
She is now presenting her works at an impressive exhibition called "Sand
& Stone" at Bet Gabriel, at the southern tip of Lake Kinneret in Israel.
The solo exhibition includes over 40 works, which include various
themes such as landscapes and characters from Israel, views from Brazil
Nira possesses an exceptional talent for capturing light, ideally suited to
Jerusalem's exquisite tones, infusing her art with a color palette that is
nurtured, mixed and woven by finger, if necessary, to harness nature's
beauty on canvas. She has exhibited her paintings in New York City,
Caracas, Rio de Janeiro, London, Hong Kong and Jerusalem. Her works
enhance private collections worldwide.
Nira Spitz